Bio -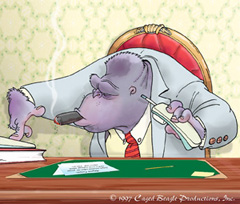 Dean Yeagle started in animation in Philadelphia, PA . After marrying Barbara (also an artist, and musician) and the birth of their daughter Becky, the need for actual money drove them to New York, and a job as designer, animator and eventually director with one of the top animation houses in NYC. In 1986, with partner Nancy Beiman, he opened Caged Beagle Productions, Inc., a full-service animation studio, and has produced, directed, designed and animated innumerable TV commercials and CD-ROMs, with clients across the United States and Europe. Dean was named Animator of the Year by the National Cartoonists Society.
He also does work for corporate clients, designing characters for various products, and works on a continuing series of children's books, designs the occasional toy, and contributes cartoons to Playboy magazine. In other words, he'll do pretty much whatever swims before his startled gaze.
Contact me at dabeagle@aol.com
Partial Client List -
Walt Disney Productions
Warner Bros.
MGM
Jim Henson Associates
Playboy Enterprises
Blue Sky Studios
Marvel Comics
Hanna-Barbera
Holt, Rinehart and Winston
Random Hourse
Western Publishing
Brøderbund
Animus Productions (UK)
Hahnfilm (Berlin)
Swan Studios (Denmark)
Hollywood Road Productions (UK)
RIck Reinert Productions (LA)
Imaginengine, Inc. (SF)
JuniorNet
Nestlé
Kraft/General Foods
Dannon
Proctor & Gamble
Saatchi & Saatchi
Grey Advertising
Avrett, Free and Ginsberg, Inc.
Jordan, McGrath, Case & Taylor, Inc.
The Coleman Group
Wallace/Church
The Biondo Group
Brand X Design
Video Gaming Technologies, Inc.